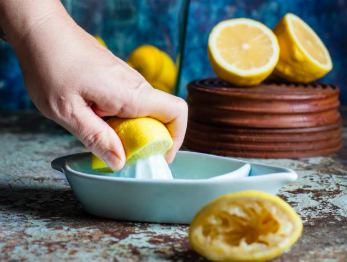 Healthy living goes way beyond organic veggies and filtered water. It starts with the clothes you buy and cleaning products you use. The Quality Care Plus team goes above and beyond with our products and techniques to keep your home family-friendly (by family we're talking about Spot, Junior and your guests).
Take a look at a few of our favorite DIY techniques to keep your home clean this season.
3 Expert-Approved DIY Cleaning Tips
Sometimes all you need is soap and water. Often, it takes a little bit more than that.
Tip #1 Lemon is a Tried-and-True Go-To
Citrus is a lifesaver in most cleaning catastrophes. Need an antibacterial agent to clean the kitchen counters? Check. Want to shine your copper Moscow Mule mugs? Lemon has you covered.
Raw lemon is a great disinfectant for cutting boards, kitchen sinks and bathtubs. Mix with salt for a great scouring paste or with cream of tartar for a stain remover.
Tip #2 Essential Oils are More Versatile than You Know
One of the perks of all-natural cleaning solutions is you normally have the ingredients lying around the house. If you've ever tried to run a spa-worthy bath or make your own facial cleanser, you have everything you need for essential oil cleaning products.
Potent oils like peppermint oil and tea tree oil are strong enough to kill bacteria and mold. Mix 20 drops of your oil of choice with one-cup water, ¼ cup white vinegar to soak and disinfect brushes and combs. Remove soap scum from your shower doors with a simple swipe of a few drops of lemon oil each week.
Tip #3 White Vinegar is One of the Strongest Cleaners You Already Own
This acidic lifesaver halts the growth of most bacteria, mold and mildew. Distilled white vinegar also destroys soap scum and mineral deposits better than any of the harmful stuff.
Clean any floor, including carpet, with simply white vinegar and a little elbow grease. Be sure to test the product on a hidden part of the floor to avoid negative effects.
Look to the Pros for the Stains that Won't Budge
Unsightly stains on your carpets, area rugs, leather and upholstery are some of the most difficult to remove and most expensive to replace. Sometimes it takes a bit more work than a DIY cleaning solution.
Quality Care Plus uses effective, all-natural cleaning products to accompany our professional techniques. Chat with us today for an affordable pristine clean.
Love these tips? Leave us a comment on Facebook!