*Fill out the form on this page to claim your discount before August 30, 2019! Enter "50off" in the message field.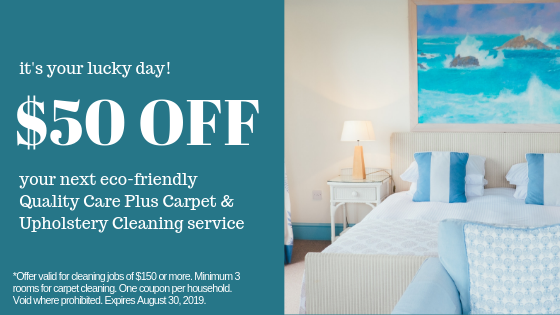 It's no secret other companies in Pinellas County clean carpets, rugs, upholstery, tile and grout. So, why Quality Care Plus Carpet Cleaning? It's simple, really. We don't just care about a clean home, we care about a healthy home.
From your very first phone call to the last step of the cleaning process, you'll work with the sole owner and operator of Quality Care Plus for the last 20+ years. Find out why your Tampa Bay neighbors give us five-star reviews on Google! Our unique and environmentally friendly cleaning process is what sets us apart from other companies. Let's break it down:
Step 1: It All Starts with the Steam
Tough stains call for strong equipment. Our team uses a powerful high-heat steam and cleaning solution combo to penetrate the soiled area. Did Fido leave a spot on your rug? No problem. Red wine on the white couch? We've got you covered.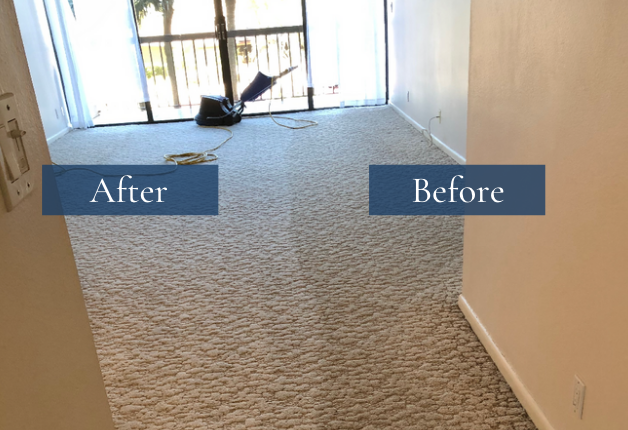 Step 2: Loosen Dirt from the Surfaces
Ever heard of a power rotary brush? Unless you're a professional carpet cleaner, the answer is likely no. We use this incredibly advanced tool to remove even the smallest debris particles from the affected area. Our super-heated cleaning solution filters through the rotary brush to restore even the deepest stains.
Step 3: Green Products Create Spotless Results
We never, ever, ever bring anything into your home that's potentially harmful to your family or pets. The eco-friendly products we use deeply penetrate stains of all kinds and are good for the environment. The end result is clean, restored surfaces that look and smell better than ever. That's a win, win in our book.

Step 4: Deep Extraction for a Fast Dry
Our Quality Care Plus team uses industrial-strength cleaning equipment to restore carpet fibers and eliminates stains. The tools we use are crucial, but the process in which we use them is even more important. Don't have the time to wait 24-hours for your carpet, rug or upholstery to dry? We don't blame you. Our process leaves your surfaces spotless and dry within a couple hours.
Save Time, Money and Stress when You Partner with Quality Care Plus Carpet & Upholstery Cleaning
Your family is our first priority. Getting your tile, grout, carpets, upholstery and leather clean the healthy way is a close second. We've created a cleaning process over two decades that fits into your busy schedule and protects your family and pets from harsh chemicals.
See what your neighbors have to say about us on
Angie's List
and
Google
, then contact us
here
to get $50-off your summer cleaning services.
P.S.: Prefer to contact us by text? No problem!
Tell us about your cleaning job
and mention this $50-off coupon. If you have pictures, even better! We'll get back to you right away.